This set of upgraded tools can help you repair the gap and clean the residual glue, Improve the Agglutinating Quality and the Aesthetic Sense of Surface Stainless Steel scraper remove stubborn old glue, Silicone Trowel to remove surface bumps and dents, It's an good tool for smoothing sealing lines, caulking lines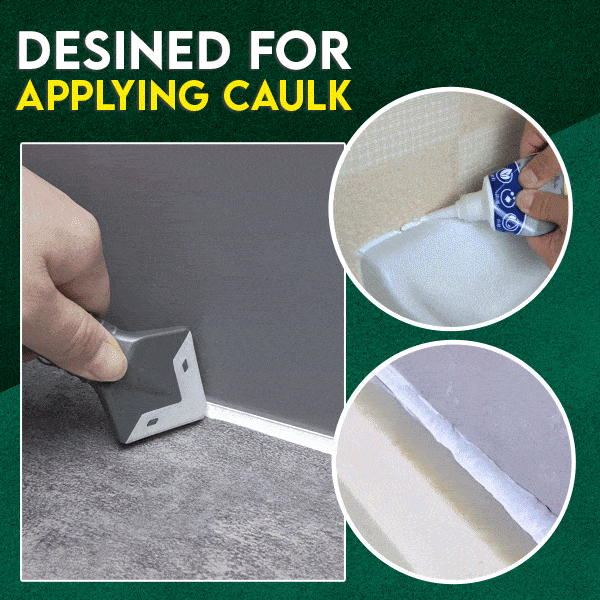 Three-in-one seam filling tool + 4 sealant trimming tool
This set of upgrade tools can help you repair cracks and remove residual glue, improving gelling quality and surface beauty.
Two-mode scraper
stainless steel scraper removes stubborn old glue, and silicone scraper removes bumps and dents on the surface. it is a good tool to make sealing lines and seam lines smooth; complete most silicone work, any edges, corners, seams.
cost saving
the plug tool is easy to clean and reuse with wet cloth, reduces the waste of sealant, does not need adhesive tape, is convenient and quick to use, and saves money and time.
5 silicone pads are replaceable
the glue pressing tool is designed with an anti-skid push-pull button, which can replace 5 silicone pads (including 3R pads, 6R pads, 10R pads, 13R pads, 17R radii)
wide range of applications and good service
seam filling tools can be used in homes, kitchens, bathrooms, water tanks, windows, sink connectors, etc.
And we provide customers with quality service, quick refund and replacement.
Specifications:
Material: Plastic&Silicone&Stainless steel
Color: Black&silver
Size:
Metal scraper: 195*35mm/7.68*1.38 inch
Plastic scraper: 190*28mm/7.48*1.1 inch
Silicone trowel: 160*45mm/6.3*1.77 inch
Feature:
Sharps end, clear vertical angle
Push forward and pull back to clean the silicone
Beautiful seam scraping glue, replaceable rubber head
Surface cleaning to remove bumps
Uses: Angle scraper, glass glue, adhesive residue scraper, seam repair tool
Packaged included:
1*Squeegee set(Multifunctional rubber shovel + rubber scraper + metal shovel rubber + 5 angle scraper)
Note:
1.Due to the different monitor and light effect, the actual color maybe a slight different from the picture color.
2.Please allow 1-2cm differs due to manual measurement.